"The Mind is the Limit" mit diesem Satz hat sich Arnold Schwarzenegger in unser Hirn und Herz gebrannt. Seine Erfolge sprechen für sich selbst. Der mehrfach ausgezeichnete Bodybuilder, Schauspieler und 38. Governor von Kalifornien hat eine Karriere vorzuweisen, wie kein anderer. Doch wie kommt man zu seinem solch eisernen Willen?
Wenn man Arnold Schwarzenegger zum ersten Mal begegnet, wird einem erst bewusst, welch enorme Aura diesen beeindruckende und doch so bescheidene Persönlichkeit umgibt. Er ist eine wahre Erscheinung, ein Berg von einem Mann. Und man muss sich schnell eingestehen, dass die große Leinwand und die unzähligen Rollen, die er verkörpert hat, dem gutherzigen Menschen Arnold Schwarzenegger bei Weitem nicht gerecht werden. Von vielen bewundert, von einigen beneidet, hat er mit seinem Leben – seinen Werten und seiner Einstellung zu Leben – ein Andenken für viele, junge Sporter und jeden von uns geschaffen, der das Ziel verfolgt, seine Träume eines Tages verwirklichen zu können. Er ist nicht nur der Terminator, er ist ein Motivator.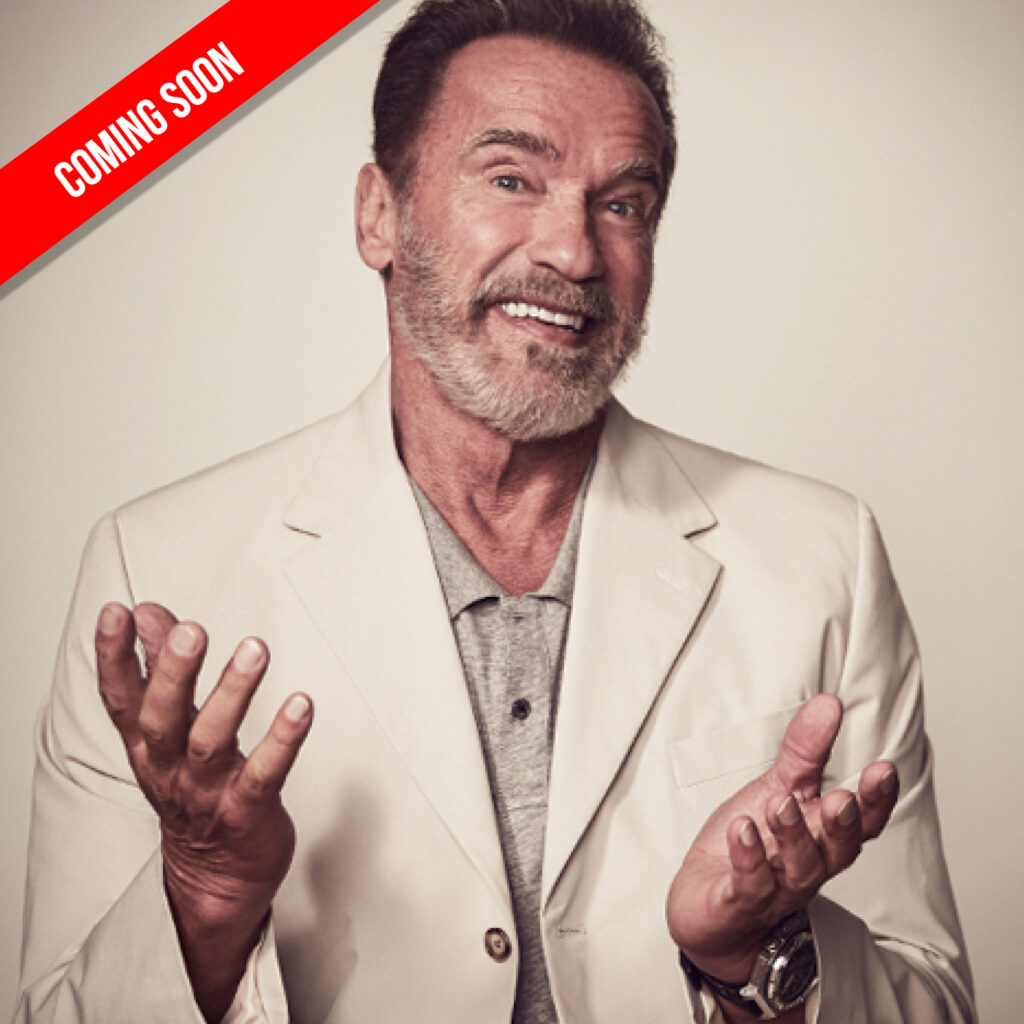 Der am 30. Juni 1947 geborene Grazer, 7-fache Mr., Olympia und 5-fache Mr. Universum ist nicht nur der berühmteste österreichisch-US-amerikanische Schauspieler, Publizist, Unternehmer und ehemaliger US-Politiker. Er ist der erfolgreichste Bodybuilder der Welt und gilt als Paradebeispiel, den "amerikanischen Traum" tatsächlich zu leben. Doch nichts ist dem Terminator wichtiger als die Familie.
Was sind seine größten, persönlichen Erfolge? Wie konnte er einen solchen Lebensweg gehen? Wie schafft man es, einen solch eisernen Willen zu haben und unbeirrt seine Ziele zu verfolgen?
Das und noch viel mehr erzählt uns Arnold Schwarzenegger im persönlichen Interview im Sommer 2021. Demnächst hier bei The NETucator.
---
Arnold Schwarzenegger persönlich
Arnold Schwarzenegger's Elternhaus befindet sich in Thal bei Graz. Heute kennt man es als das berühmte "Arnold Schwarzenegger Museum". Aus allen Himmelsrichtungen reisen die Menschen an, um einen Blick in die Kindheit des Hollywood-Stars zu werfen und um zu erfahren, wie die steirische Eiche aufgewachsen und zu dem Weltstar geworden ist, der er seit Jahrzehnten ist. Anlässlich des 65. Geburtstages der Ikone haben der Museumsgründer und Altbürgermeister Peter Urdl und Förderer Prok. Helmut Gombocz eine Museumsbroschüre geplant, die ich gemeinsam mit den beiden umtriebigen Herren umsetzen durfte. Arnold hatte sich zur Geburtstagsfeier angekündigt und ist auch tatsächlich gekommen. Auch ich wurde zu den Feierlichkeiten im Museum eingeladen.
Parkplatz gab es an diesem Tag so gut wie keinen – wie jedes Mal, wenn der ehemalige Bodybuilder seine alte Heimat besucht. Man musste auch gar nicht lange nach ihm Ausschau halten. Dort, wo am meisten Menschen (vorwiegend Presse) zu sehen waren, dort war Arnold – mittendrin in dem Getümmel und Gedränge. Seine Bodyguards und Freunde versuchten ihn etwas abzuschirmen, während er gemächlich und völlig gelassen an seiner Skulptur im Vorgarten anhielt und danach locker ins Haus schlenderte.
Ich stand im Abseits und hatte den Trubel aus der Ferne beobachtet. Mein erster Gedanke war "Wie anstrengend muss es für einen Menschen wie ihn sein, diese Menschenmassen und das Blitzlichtgewitter ständig aushalten zu müssen und dabei noch so freundlich zu bleiben." Alleine dafür gebührt jedem Hollywood-Star, jeder Ikone, Respekt.
Während Arnold seinen Familienmitgliedern und Freunden, die ihn auf seiner Reise begleitet haben, sein Elternhaus zeigte, blieb ich im Erdgeschoss an der Information stehen und verfolgte das Geschehen mit etwas Abstand. Das war mir alles viel zu laut und zu viel Gedränge. Irgendwann kam er dann an mir vorbei und schüttelte mir die Hand. Zuhause fragte mich meine Mutter, warum ich nicht um ein Foto gebeten hätte. Nun, das mache ich bewusst nie – es käme mir auch nicht in den Sinn, weil ich einfach den Moment genieße und mir denke, dass Menschen wie er, jeden Tag um ein Foto gebeten werden…das muss doch lästig sein und möchte ich nicht.
Arnold und seine Begleiter schlenderten weiter durch das Erdgeschoß, die Presse und Schaulustige folgten ihm.
Irgendwann kam ein großer Amerikaner zu mir. Er hielt seinen Pullover in meine Richtung und fragte mich auf Englisch "Kannst du mir eventuell helfen? Ich habe meinen Pullover mit Kaffee bekleckert. Glaubst du, bekomme ich das raus?" Es war einer der engsten Freunde von Arnold, der sich von 100 Menschen gerade mich ausgesucht hatte und um Hilfe bat. Aus einer flüchtigen Begegnung entwickelte sich über die Jahre eine Freundschaft, die ich noch heute sehr zu schätzen weiß.
Im Laufe der Zeit wurde ich immer wieder eingeladen, wenn Arnold in der Stadt war und durfte mich der kleinen Runde anschließen, die ihn begleitete. Dabei hatte ich stets einen respektvollen Abstand zum Hollywood-Star gewahrt. Irgendwann saß ich mit einem seiner Freunde im Garten des Hotels, in dem Arnold während seines Aufenthalts wohnte, als er zu uns an den Tisch kam. "Wir kennen uns doch?" fragte er mich und streckte mir seine Hand entgegen. Ich war völlig überrascht, dass er mich überhaupt wahrgenommen, geschweige denn wiedererkannt hatte. Sein Freund antwortete "Ja, das ist Elke…" Arnold streckte mir nochmal seine Hand entgegen und sagte "Ach ja, natürlich. Schön, dass du da bist, Elke."
Das letzte Mal als ich Arnold, seine Freundin Heather und seine jüngste Tochter traf, war ich zu Gast bei einer seiner Charity-Veranstaltungen. Und obwohl zwischen den Begegnungen immer wieder einige Monate vergehen, scheint die Zeit still zu stehen. Man plaudert mit ihm als wäre das letzte Gespräch erst gestern gewesen – Arnold begegnet einem immer mit einer Freundlichkeit und Herzlichkeit, die ich heutzutage nur noch sehr selten bei Menschen finde.
…wenn man bedenkt, dass es einem Arnold Schwarzenegger auffällt, wenn man sich innerhalb des letzten Jahres äußerlich verändert hat und einen begrüßt mit "Jo, Elke. Du host oba schön obgnommen, gö?", freut man sich nicht nur als Frau, sondern man erkennt, dass es gut ist, wie man ist. Achtsamkeit, Ehrlichkeit, Wertschätzung und eine gute Seele zu haben, zahlt sich selbst in so schnelllebigen und oberflächlichen Zeiten wie heute aus. Denn wahre Größen wissen genau das zu schätzen.
Warum erzähle ich euch das?
Mit dieser kurzen, persönlichen Anekdote möchte ich bewusst machen, dass ein Weltstar wie Arnold Schwarzenegger (und auch einige andere wahre Größen), den tatsächlich jeder kennt und jeder bewundert, weitaus bodenständiger, liebenswürdiger, mitfühlender, umsichtiger, höflicher und herzlicher ist als so manch anderer, den man im Alltagsleben begegnet. Ich habe größten Respekt vor ihm für seinen eisernen Willen, seinen Ehrgeiz und seine Disziplin, seine Menschlichkeit und Charakterstärke.
Ich wünsche mir für unsere Gesellschaft, dass sich so manch einer ein Beispiel an ihm nimmt – im Interesse eines gesunden und guten Miteinanders für mehr Menschlichkeit, Nächstenliebe und Aufgeschlossenheit.
Eure Elke